June 18, 2018 – Osborne, Kan. – Osborne Industries Inc, a leading manufacturer of thermosetting plastic components for leading OEMs (Original Equipment Manufacturers) around the U.S., is pleased to announce their April 16, 2018, certification under ISO 9001:2015. The company has maintained certification under ISO standards since October 2000.
The company-developed and maintained internal Quality Management System (QMS) has conformed to the requirements of the ISO 9001 international standard for nearly 20 years. Recently, during an annual audit by SAI Global Certification Services, headquartered in Toronto, Ontario, Canada, auditors recommended Osborne be approved for the advancement from the 2008 to the 2015 standard.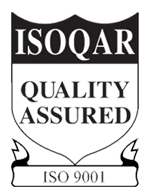 "Maintaining our ISO certification allows us to monitor and continually improve our Quality Management System in order to give our customers peace-of-mind that the products and services we provide will meet their expectations," stated Ron Sturgeon, Quality System Manager and Environmental Coordinator. "Our QMS provides the framework necessary to consistently manufacture products and provide services that not only fulfill our customers' requirements but aim to exceed them."
International Organization for Standardization (ISO) 9001:2015 is currently the most up-to-date standard of its kind, focusing on the performance of a manufacturer's QMS. The certification includes an emphasis on risk-based thinking, increased customer focus and leadership requirements, and continual improvement of a company's QMS.
Osborne Industries, Inc., is a leading, employee-owned molder of custom thermosetting plastics across a wide range of industries via Resin Transfer Molding (RTM) and Reaction Injection Molding (RIM). The company's products are 100% American-made at their facility in Osborne, Kansas. For more information on Osborne and its innovative molding capabilities, e-mail plastics@osborneindustries.com or contact us online today!